Andhra Pradesh
Kuppam will be satellite town to Bengaluru
The tri-State Kuppam junction would be developed as a satellite town to Bengaluru in view of the close proximity of the places to each other and the rich potential of the Kuppam region for agro-based industries and gold mines.
As part of the action plan for the integrated development of Kuppam, the airport project in the region would be expedited. In order to train the youth of Kuppam in skill development and to help augment their income sources, an agreement would be signed with Berkeley University.
Naidu said ₹4,500 crore would be spent to strengthen the government schools in the State.
CM flags off Arogya Rathams
Chief Minister N. Chandrababu Naidu flagged off Arogya Rathams (health on wheels) to provide health care to the people in Visakhapatnam and Vizianagaram districts.
The rathams will cover 17 areas which are identified as most vulnerable to diseases in the two districts. The Arogya ratham is a Corporate Social Responsibility (CSR) initiative of the Andhra Pradesh Mineral Development Corporation Ltd. (APMDC).
The Arogya ratham, which is GPS connected, will visit a village every day. About 200 types of tests, ECG, blood and stool, can be done in the rathams. In future, equipment to conduct cancer tests will also be installed in the vehicles.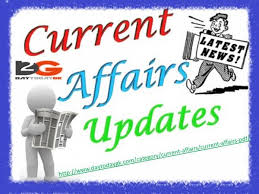 INTERNATIONAL
IMF approves conditional $1.8 billion loan to Greece.
The International Monetary Fund's board approved a $1.8 billion loan to Greece but will only release the money if the country gets debt relief from its European creditors.
The IMF has praised Greece for taking steps to reduce its budget deficits, including expanding its tax base and cutting spending on pensions. But the lending agency is pressuring Greece's eurozone lenders to provide enough relief to ensure the battered country can pay its bills.
If an agreement on debt relief is reached, the IMF will join the eurozone lenders in an ongoing bailout.
NATIONAL
Ram Nath Kovind elected India's 14th President.
Ram Nath Kovind was declared elected as India's 14th President polling 65.6% of the vote defeating the Opposition's joint candidate, former Lok Sabha Speaker Meira Kumar, who secured 34% of the vote.
Kovind will be the second Dalit President of India after late President K.R. Narayanan
Also, he will be first from Uttar Pradesh and the first person from the BJP to hold the office of President since Independence.
He entered politics in 1994 when he became a member of Parliament in Rajya Sabha from Uttar Pradesh and served as an MP for two consecutive terms till 2006.
He had represented India in the United Nations in New York and addressed United Nations General Assembly in October 2002.
On August 8, 2015, Kovind was appointed governor of Bihar.
Pradhan Mantri Vaya Vandana Yoja is launched.
The Union Minister for Finance, Defence and Corporate Affairs has formally launched the Pradhan Mantri Vaya Vandana Yojana (PMVVY) in the national capital.
PMVVY is a Pension Scheme announced by the Government of India exclusively for the senior citizens aged 60 years and above which is available from 4th May, 2017 to 3rd May, 2018.
The Scheme can be purchased offline as well as online through Life Insurance Corporation (LIC) of India which has been given the sole privilege to operate this Scheme.
Scheme provides an assured return of 8% p.a. payable monthly (equivalent to 8.30% p.a. effective) for 10 years.
Indian Army inks MoU with DRDO to raise MRSAM defence system regiment
The Indian Army has signed MoU with Defence Research and Development Organisation (DRDO) to raise one regiment of the advanced Medium Range Surface to Air Missiles (MRSAM) defence system.
The Indian Army is planning to have a total of five regiments of MRSAM defence system, which will be deployed opposite to China and Pakistan. Each regiment consists of four launchers with three missiles each. So five regiments will have total 60 missiles.
Earlier the Cabinet Committee on Security (CCS) headed by PM Narendra Modi had approved proposal for procuring MRSAM system for the army.
MRSAM– The MRSAM is an advanced, all weather, mobile, land-based air defence system.
It can shoot down enemy ballistic missiles, aircraft, helicopters, drones, surveillance aircraft and AWACS aircraft.  It is capable of engaging multiple aerial targets at ranges of more than 50 km.
Rural Development to launch Aajeevika Grameen Express Yojana.
The Ministry of Rural Development will launch a new sub-scheme under Deendayal Antyodaya Yojana – National Rural Livelihoods Mission (DAY-NRLM) which will be named as "Aajeevika Grameen Express Yojana (AEGY)".
It aims to provide an alternative source of livelihoods to members of Self Help Groups (SHGs) under DAY-NRLM by facilitating them to operate public transport services in backwards rural areas.
The States have informed about the number of blocks allocated to them to take up this sub-scheme in the pilot phases.
APPSC GROUP 1 Notes brings Prelims and Mains programs for APPSC GROUP 1 Prelims and APPSC GROUP 1 Mains Exam preparation. Various Programs initiated by APPSC GROUP 1 Notes are as follows:-
For any doubt, Just leave us a Chat or
Fill us a querry
––